How to Hire The Right Painting Contractor
One of the most commonly asked questions when deciding to start a painting project is, "How do I hire the right painting contractor?".
One trip to any popular search engine or directory for queries like "San Diego painters" or "San Diego house painter" will populate your screen with dozens of local results. While this is a great place to start, you often will want to dig a little deeper to understand exactly who it is that will be hiring. This post will hopefully help you make the right decision next time you need to hire a professional.
Start by reading online reviews, asking your friends and family, and then compiling a shortlist of 3-4 contractors. Look into the contractor's experience, check if they are licensed, bonded, and insured, and if they have any affiliations with local commerce groups or professional organizations. Obtain estimates from your shortlist and be clear of your needs. Never hire solely on price and beware of subcontracting. The contractor should always provide you with a clear and complete contract and provide guarantees/warranties that last at least two years which guarantee the quality of their work. Now that we've hit on the high-level concepts, let's look at each of these points in greater detail below so you can add them to your hiring a painter checklist.
---
 What is A Painting Contractor?
Before we delve in, you might be asking yourself, "what is a painting contractor and how is it different from a painter?". Good question. To put it simply, hiring a painting contractor can help to removes all the risks and responsibilities from a potential client. They carry with them general liability and workers compensation insurance which will protect you from any liability should an accident occur. A well-reviewed painting contractor will remove any concerns over the quality of their work as they possess a higher quality of craftsmanship. Their reputation is on the line with each painting job, and if anything goes wrong, they will be much more likely to fix it to preserve their reputation. Lastly, a painting contractor will always supply all of their own supplies. This means all paint and equipment. You will not need to purchase your own paint directly from the store which can remove any issues such as defective paint or a wrong color. Now, the checklist!
Due Diligence
This step is the most important and therefore we've listed it first. The first thing you can do is start with a search for painters in your area. Your goal is to compile a short-list of 3-4 companies that you will contact. We recommend you visit at least 2 different search engines, for example, Google, Yelp, Angie's List, Home Advisor, etc… Before you look at the company's description of their services, look at past-customer reviews. These are far more honest and cut through a lot of the "fluff" companies can place in their service descriptions.
When reading past reviews, try to look for potential red-flags that recur in several reviews. If you notice a lot of the same problems, that's an immediate red flag. Another red flag can be if the company doesn't seem to respond to negative reviews or attempt to make things right. It is human to make mistakes, but you can learn a lot about a company by how they respond to negative reviews. When you are conducting your initial due diligence, check if the company mentions that they are licensed and insured. If the company does not openly disclose this, that could be a potential red flag.
Another great way to compile your list is to ask your friends and family if they can refer any good painters in your area. This can often be more effective and efficient than an online search.
Credentials
Check to see if the company is in good standing with the Better Business Bureau (BBB). See if they are affiliated with painting organizations like the Painting and Decorating Contractors of America (PDCA) or are involved with a local chamber of commerce or business group. While this doesn't 100% guarantee their work, it conveys the message that they are committed and reliable.
We are a proud member of the PDCA here at TruLine Painting. Unsure of why it is important to hire a PDCA member painting contractor? Learn more about the strict code of ethics here
Also, check sites like Yelp, Home Advisor, and Angie's List to see if they've won any awards. This typically means they are highly reviewed and recommended.
Verify their state license and credentials by checking your state's Contractors State License Board. Here in California, you can use the Department of Consumer Affairs License Verification System. To find your states, simply google "[insert state] contractor license verification".
Are they lead-based paint certified? Lead-based paint has been outlawed since 1978, however, there are painting contractors that are not properly-certified or do not abide by the rules laid out by the EPA. Failure to comply with the EPA's Lead Renovation, Repair and Painting Rule (RRP Rule) can result in daily fines of up to $30,000 per day. This can be for this such as not obtaining certification, not supplying pamphlets to customers, not properly containing or cleaning up an area, and withholding information. Always check with the painting contractor beforehand. 
Some cities like San Diego may have different rules, so make sure your San Diego Painting Contractor understands this.
Also, check with the Better Business Bureau or your local consumer affairs agency to see if there is a history of any unresolved complaints.
Obtain Estimates
Once you've compiled your shortlist, schedule estimates with each company. A good painting contractor will always want to see a project before giving you an estimate. If the company tries to supply you with an estimate over the phone, that's a potential red flag. No two painting projects are alike and the estimate they give you will likely be inaccurate. It also conveys the message that the company is either too busy or doesn't value your needs.
What to Expect From A Painting Contractor Estimate
The estimate should contain at the very minimum the following information:
Labor
Materials
A detailed explanation of prep work
Total number of coats that will be applied
The time frame of the project
Brand and model of material to be used
A sign of an experienced estimator is one that takes the time to talk to you about your needs, walks the entire area to be painted, and makes thoughtful suggestions.
Be Clear Of Your Needs
The old cliché "communication is key" stands up here. It's very important to be upfront with the painting contractor if you have a tight deadline, want a certain "look", or have issues like an uneven surface that needs to be painted a specific way. A good painting contractor will always listen to your needs and try to find a solution to those issues. Don't be afraid to ask any questions you may have, there truly isn't a stupid question when you're paying money for a service. During the initial phone call or estimate, be sure to address any and all concerns with the estimator.
Never Hire Solely On Price
Always dig deeper than comparing painters solely by price. You may find a painter that advertises an enticingly cheap special, but if you read the fine print you may notice it doesn't include the price of paint, prep work, additional rooms, etc… So, what once seemed like a good deal is now more expensive. Additionally, the cheapest company may not offer guarantees or may not be properly licensed and insured. Conversely, going with the most expensive company does not always guarantee the best results.
What matters is the quality of work, past reviews, communication, and the thoroughness of the painting company. Additionally, be aware of painters that subcontract out work. You always want to work directly with the company that will be painting your home.
BE AWARE OF UNLICENSED CONTRACTORS: Most homeowners insurance policies do not cover damages done to your home by an unlicensed contractor. Want to learn more about the dangers of hiring an unlicensed painting contractor? Read our article here to find out how they can cost you up to $750,000!
Just a side note, we are not saying the cheapest painter may not be the best option. You just need to make sure you do your due diligence before hiring them (like you would with any other option).
Examine the contract
Make sure you obtain a complete contract from the painting contractor. The contract should always include all of the contractor's basic information including:
name
address
all phone numbers
contractor's license number
all the details included in the estimate
The contract should also always clearly state what is and isn't included in the contract. Be sure to ask for a copy of their insurance and license. If the contractor doesn't have insurance, you will be held liable for an accident. For example, if one of the painters need to use a ladder and accidentally fall, you would be on the hook. That's something nobody wants to deal with.
The contractor should also always provide a guarantee and warranty on their work for at least two years.
Gut Feeling
This one does not require much explanation. Always trust your gut feeling and always go with the painting contractor that makes you feel 100% satisfied. Painting your home is one of the most important decisions you'll ever make as a homeowner. You will be seeing it every day as you come home for years. So think to yourself, do you really want to be reminded of a negative experience? Consider what that's worth next time you make your decision.
---
Bottom Line
Conducting a little due diligence can go a long way when looking to hire the right painting contractor. With these tips, we hope you will hire the right painting contractor. If you have any further questions, please don't hesitate to ask. We're happy to help!
Looking for a licensed, insured, and reputable painter in the San Diego area?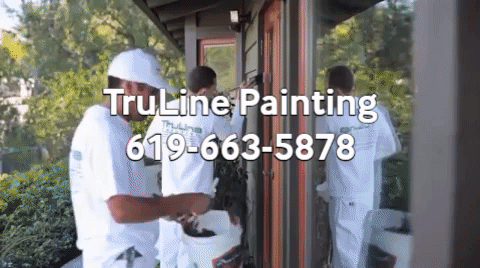 We would be honored if you would give TruLine Painting the opportunity to earn your business.
With over 25 years of industry experience and hundreds of 5-star reviews online, we deliver results that perform a "cut above the rest". We are your one-stop-shop painting contractor and offer interior and exterior painting, general contractor services, cabinet refinishing and staining, power washing, window cleaning, and much more. To learn about all our services and to schedule your free estimate, please click here.